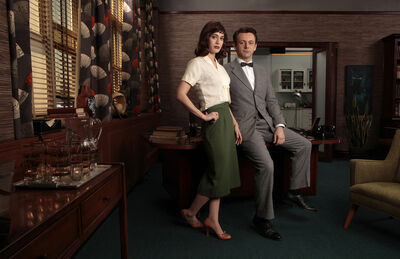 Masters of Sex is a one-hour drama starring Emmy and BAFTA Award nominee Michael Sheen and acclaimed actress Lizzy Caplan released by Showtime. The two portray the real-life pioneers of the science of human sexuality, William Masters and Virginia Johnson. The series chronicles their unusual lives, romance, and pop culture trajectory.
Their research touched off the sexual revolution and took them from a midwestern teaching hospital in St. Louis to the cover of Time magazine and nearly a dozen appearances on Johnny Carson's couch.
Ad blocker interference detected!
Wikia is a free-to-use site that makes money from advertising. We have a modified experience for viewers using ad blockers

Wikia is not accessible if you've made further modifications. Remove the custom ad blocker rule(s) and the page will load as expected.